Page last updated: Fri, 20-Apr-2018 15:11:24
BirdXCanada - Detailed Specification Page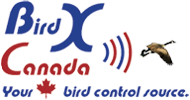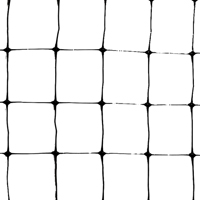 Back to Previous Page
BirdNet
by Bird-X
Features Specifications Usage Tips
Product Summary
BirdNet Polypropylene Roost Inhibitor


Prevents birds from gaining entry to convenient roosting and nesting place on your property with plastic bird netting.

Seal off all structural openings and other havens for roosting pest birds. The tough, nearly invisible bird netting keeps pigeons, starlings, blackbirds, sparrows and other pest birds out once and for all.

Easy installation and nearly no upkeep makes BirdNet a hassle free sensible choice. It is lightweight bird netting, pliable, and UV stabilized - so it won't deteriorate with age or lose strength when exposed to the elements.

BirdNet is also ideal protection for vineyards, orchards and other agricultural concerns. It creates bird-proof enclosures that allow all of the light and moisture to reach your crops.

You can solve bird problems at your plant, office complex, warehouse, sports facility, or nearly anywhere easily and inexpensively. Apply Bird-X's bird netting product, BirdNet and see the 'net' results... an end to your pest bird problems.

This product welds (melts) the intersections of polypropylene material (to attach the horizontal to the vertical). If you are looking for a more heavy-duty solution, consider the knitted Polyethylene Bird Netting.

OPTIONAL MOUNTING CLIPS

Hold BirdNet securely with heavy-duty plastic clips that snap around net. Install easily to your mounting surface on cord or wire, with screws, nails, adhesive or Velcro.

NOTE: ALL bird control methods prove more effective when different types of products are used in combination. BirdXCanada.com offers the widest selection anywhere, including light and sound repellers, roost inhibitors and visual scare devices.

Note: Due to the nature of this product we cannot offer our 30 day customer satisfaction guarantee on this product.
Images
(Click on any thumbnail to view larger image)

Bird X Birdnet PE Plus - Premium Grade Bird Net


Premium Bird Netting Keeps Birds Out


Premium Bird Netting Factory Installation


Premium Bird Netting Transit Installation
Additional Resources
Models
For pricing, availability or to order this product, visit our online store.
| Model # | Description | Price |
| --- | --- | --- |
| NET-STR-100-14 | Bird-X BirdNet Bird Exclusion Netting Polypropylene Roost Inhibitor, Structural, 0.5" mesh, 100 feet by 14 feet | 360.00 |
| NET-STR-200-14 | Bird-X BirdNet Bird Exclusion Netting Polypropylene Roost Inhibitor, Structural, 0.5" mesh, 200 feet by 14 feet | 560.00 |
Accessories
| Model # | Description | Price |
| --- | --- | --- |
| MTG-CASE | Bird-X BirdNet Mounting Clips, plastic. 250 clips | 205.00 |
| MTG-50 | Bird-X BirdNet Mounting Clips, plastic. 50 clips | 45.00 |