Page last updated: Tue, 30-May-2017 15:20:09
BirdXCanada - Detailed Specification Page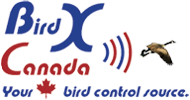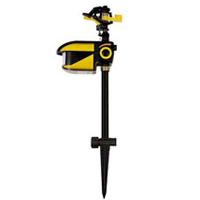 Back to Previous Page
HydroBlast Scarecrow
by Bird-X
Features Additional Resources Specifications Usage Tips Accessories
Product Summary
Motion Activated Sprinkler Pest and Animal Repeller
The Scarecrow is a clean alternative to smelly, poisonous, or visually disruptive repellents. It is widely endorsed and less expensive than physical barriers. If you've tried other solutions that failed, you're ready for a Scarecrow.

The ScareCrow detects pest animal intruders day or night and sprays them with water to deter them.
Runs for months and sprays up to 5000 times on one 9 volt battery using your garden hose
Eco-Friendly, chemical-free ScareCrow is a humane solution to unwanted intruders
Ideal for use in gardens, yards, porches, patios and more
Effective against dogs, cats, deer, rabbits, chipmunks, squirrels, skunk, raccoon, woodchucks and any other garden pests
Just hook up to your garden hose, plug in the battery and point it over the area to be protected. It's that easy.
Tens of thousands of homeowners worldwide now use this award- winning solution to quickly, economically and safely repel animals.

All it takes is a few cups of water from the fast acting Scarecrow for cats, dogs, deer, rabbits, raccoons and most other animals to high-tail it!

How it works

Scarecrow senses animals the same way security lights detect people; movement and heat. When an animal is seen, a valve opens instantly releasing a three-second pulsating spray of water. The combination of the sudden noise, movement, and water frightens animals away. This startling, yet harmless action is a remarkably effective deterrent.

What it needs

9-volt battery power and a hookup to a garden hose. Battery life is measured in the THOUSANDs of 'activations'. As a rule Scarecrows easily last through an average summer's use.

Optional Mounting Bracket

We've developed a bracket that can take the place of the supplied stake. It allows a Scarecrow to be positioned high or low with excellent adjustability to view exactly the spot you want to watch over. Comes with screws and instructions. Its part number is CRO-200.

Specifications:

Black and green components. The unit is constructed from lightweight durable ABS and glass-reinforced nylon components. The head can be detached from the stake to enable mounting higher using an optional mounting bracket (CRO-200 ).

Decals:
Beak and eye decals are included with each unit to brighten up the Scarecrow and give it personality. Avoid applying if using near bird feeders which attract small birds. While the Scarecrow's water will effectively repel an unwanted cat, the visual effect of the eyes may inadvertently scare the birds away.

Coverage:
Up to 1000 square feet can be covered by one Scarecrow. A 35 foot deep and 45 foot wide 100 degree sensor detection zone provides plenty of garden protection.

Note: Due to the nature of this product we cannot offer our 30 day customer satisfaction guarantee on this product.
Images
(Click on any thumbnail to view larger image)

Bird X Hydroblast Scarecrow


Bird X Hydroblast Scarecrow Deters Unwanted Pets


Hydroblast Scarecrow Protects Your Garden from Pests


Bird X Hydroblast Scarecrow Coverage Area
Models
For pricing, availability or to order this product, visit our online store.
| Model # | Description | Price |
| --- | --- | --- |
| SC | Bird-X HydroBlast ScareCrow, motion activated sprinkler | 170.00 |