Page last updated: Wed, 27-Dec-2017 15:43:40
BirdXCanada - Detailed Specification Page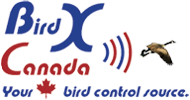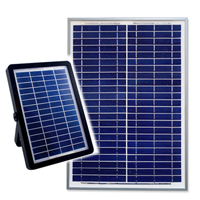 Back to Previous Page
Solar Panels
by Bird-X
Features Additional Resources Specifications Usage Tips Accessories
Product Summary
Solar Panel Accessory
Solar Panels are an excellent way to charge your electronic sonic bird repeller product. Charges a battery constantly, using the sun's power, so that electronic recharging is unnecessary. Solar Power Panel allows unattended operation of your bird repeller which saves time.

Solar Power Panels convert sunlight into electricity. Wire conducts the electricity to batteries where it is stored until needed. Electricity is then used directly from batteries, to power DC (direct current) appliances like your repeller from Bird-X.

The Standard Panel can be used with the BirdXPeller PRO and GooseBuster.

The Large Solar Panel must be used for the Super BirdXPeller PRO and CritterBlaster PRO as they require more energy. Solar power eliminates the need for an outlet and an electric bill which saves money

**** Note: You must purchase a 12vDC battery in order to utilize the Solar Panel. The panel can only charge the battery: it cannot power the repeller directly. A deep cycle, marine type battery is recommeneded. BirdXCanada does not supply batteries.

Customer Satisfaction Guarantee: BirdXCanada offers a 90 day Customer Satisfaction Guarantee on this product less a restocking charge. In certain cases the restocking charge may be adjusted depending on the condition of the product and the amount of time required to restock the product. In cases where the product or its inclusions (including the product box, inclusions, cables, adapters, manuals, etc.) is damaged either cosmetically or functionally, there may be an additional restocking fee (as it will require repair, repackaging, refurbishing or new packaging before it can be sold again). In all cases the customer is responsible for all shipping charges (both on the initial shipment and on the return shipment). The restocking charge is a minimum of 15% if the RMA is requested within 30 days of the invoice date, 25% if the RMA is requested within 60 days, and 50% within 90 days. After 90 days there is no return policy, but there is a 6 months (from purchase date) manufacturer's replacement/repair warranty. Extended warranties are available; inquire if interested.
Images
(Click on any thumbnail to view larger image)


Bird X Solar Panel Options
Models
For pricing, availability or to order this product, visit our online store.
| Model # | Description | Price |
| --- | --- | --- |
| SOLPAN | Bird-X Solar Panel. For use with BXP-PRO and GooseBuster, comes with 12 Volt battery cable. | 240.00 |
| SOLPAN2 | Bird-X Large Solar Panel. For use with SBXP-PRO and CritterBlaster PRO, comes with 12 Volt battery cable. | 475.00 |