Page last updated: Wed, 27-Dec-2017 15:43:40
BirdXCanada - Detailed Specification Page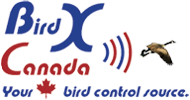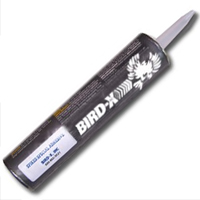 Back to Previous Page
Spikes Special Adhesive
by Bird-X
Features Additional Resources Usage Tips Accessories
Product Summary
Spikes (and Netting) Special Adhesive
High-performance elastomeric adhesive exhibits exceptional bonding to a broad range of materials including metal, glass, plastic, composite, tile, cement, rubber, leather, wood and vinyl. Each tube affixes approximately 20 linear feet of SPIKES Needle Strips.

Apply a bead of adhesive to underside of base. Firmly press SPIKES onto surface so that it makes solid contact. Allow adhesive to dry; it will form a 'rivet' through the holes in the base. Bond only to dry, clean surfaces, when the temperature is between 32°F and 120°F. If two installers are working, one can carry a quantity of stacked spikes in one hand, and apply adhesive with the other hand, while another affixes each unit to the surface. If one installer is working, he/she can lay each unit upside down (base side facing up) on the surface, in the place it is to occupy. Working along the line, the installer can apply adhesive to each base, then turn the unit over and affix it to the surface.

Please note that we cannot ship SPIKES Special Adhesive by air. If your order contains the SPIKES Special Adhesive and you choose a shipping method via air, we will not send it by air. We'll ship the rest of your order by air and contact you for furthur instructions about the adhesive.

Note: Due to the nature of this product we cannot offer our 30 day customer satisfaction guarantee on this product.
Images
(Click on any thumbnail to view larger image)


Spikes Special Adhesive
Technical Specifications
Waterproof Bond: Yes
Packaging: 10.5 oz. cartridge
Flammable: Yes
Shelf Life: 1 year unopened
Color: Tan
Solubility: Mineral Spirits
Drying Time: 24 to 48 hours
Application: Standard Caulking Gun
Working Time: 15 minutes
Storage: 40°F or above
Origin: USA
Models
For pricing, availability or to order this product, visit our online store.
| Model # | Description | Price |
| --- | --- | --- |
| SSA | Bird-X Spikes Special Adhesive, for use with Bird Spikes (steel or polycarbonate) | 12.50 |