Questions?
Call us Toll-Free

1 (866) 41 - BIRDX

1 (866) 412-4739

Your Canadian Source for Safe
and Proven Bird Control Products.

Offering effective ultrasonic,
sonic, visual scare, roost
inhibiting and other solutions from...

Quality Bird Control Products Since 1964
Steel Bird Spikes Roost Inhibitor
Block pest birds from their 'landing strips' with stainless steel needle strips.

Deter birds from roosting on any surface, permanently. These spikes feature unique-to-the-industry center spikes to prevent birds from alighting between prongs.
Heavy duty stainless steel prongs plus long-life polycarbonate base is the perfect combination of affordability and effectiveness
Flexible spikes mount on flat or curved surfaces and are easy to install with adhesive, nails, screws, wire ties, etc.
Two-foot sections 'snap to the inch' to minimize waste
Outrigger base stabilizers make installation an easy one-person job
Ideal for use on ledges, signs, windowsills, gutters, roof perimeters, air conditioners, chimneys, support structure, awnings, poles, lights, statues, beams, trusses, building projections and anywhere else birds roost
Effective against pigeons, sparrows, starlings, swallows, crows, blackbirds, grackles, many other birds, bats and more
FLEXIBLE - FITS YOUR SITUATION
Bendable base mounts flat, or on concave or convex curves. Install right side up, upside down or on any angle.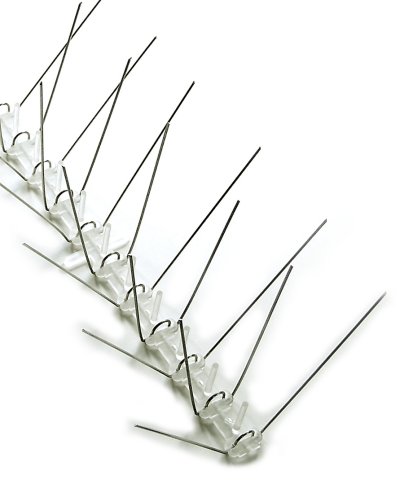 LONG TERM & ENVIRONMENTALLY-FRIENDLY
Heavy duty stainless steel prongs plus long-life polycarbonate base combine affordability and effectiveness.
EASY-TO-USE
Two-foot strips come pre-assembled (no extra labor). Each strip "locks" with the next for a seamless fit. Strips snap to the inch for precise measurement and no wasted material. Attach with adhesive, nails, screws, wire or more.

For specific needs, we also offer modified Stainless SPIKES as follows, please ask for details:
Thin ledges abutting walls?


Areas less than 2" wide?

Use our special order SLIM spikes (Code SLS)

Extra Deep Ledges?

Areas greater than 7" wide?

Use our Extra Wide spikes (Code EWS)
SPECIFICATIONS - REGULAR
Height at Highest Point: 4.3" (Slim and Extra Wide: 4.3")
Width at Base: 0.8"
Width at Widest Point: 5" (Slim: 1.5", Extra Wide: 7 ")
Diameter: Of Hole in Base: 0.156", Of Polycarbonate Center Spike: 0.125"
Weight: 16 lbs per 100'
Kits: 10', 24', 50', 100'
Material Composition: Polycarbonate with UV inhibitors, and ST302 Hard Surgical Grade Stainless; resistant to virtually all weather and harsh environments
Installation Example (click to see the picture)
Bird Spikes have been developed by BIRD-X, the worldwide leader in bird repellent products and systems.
PRICING

Item

Price ($CDN)

Standard Bird Spikes (STS)
STS-10 (10')
$52.50
STS-24 (24')
$117.50
STS-50 (50')
$230.00
STS-100 (100')
$430.00
Extra Wide Bird Spikes (EWS)
EWS-10 (10')
$60.00
EWS-24 (24')
$132.50
EWS-50 (50')
$260.00
EWS-100 (100')
$490.00
Narrow Bird Spikes (SLS)
SLS-10 (10')
$52.50
SLS-24 (24')
$117.50
SLS-50 (50')
$230.00
SLS-100 (100')
$430.00
NOTE: ALL bird control methods prove more effective when different types of products are used in combination. BirdXCanada.com offers the widest selection anywhere, including light and sound repellers, roost inhibitors and visual scare devices.
Note: Due to the nature of this product we cannot offer our 30 day customer satisfaction guarantee on this product.
---
Click here to return to the Home Page of BirdXCanada.com
For more information:
Call us Toll Free: 1 (866) 41-BIRDX
(1 (866) 412-4739)
or
Phone: (306) 933-3203
Fax: (306) 382-4995
or E-Mail: sales@birdxcanada.com
BirdXCanada.com - a division of

P.O. Box 9022 • Saskatoon, SK S7K 7E7
Page last updated: March 30th, 2012.